NTA TELEVISION COLLEGE ONLINE APPLICATION FORMS GUIDE
01: Overview
Welcome to the online user guide for the new eForms portal of the NTA Television College, Jos. On this page, you will find useful guidance on how to successfully apply for admission into our Undergraduate, Diploma, and Certificate. All applicants, as well as cyber cafe operators, are strongly advised to carefully go through this document and follow the instructions in order to ensure an error-free completion and submission of their application forms online.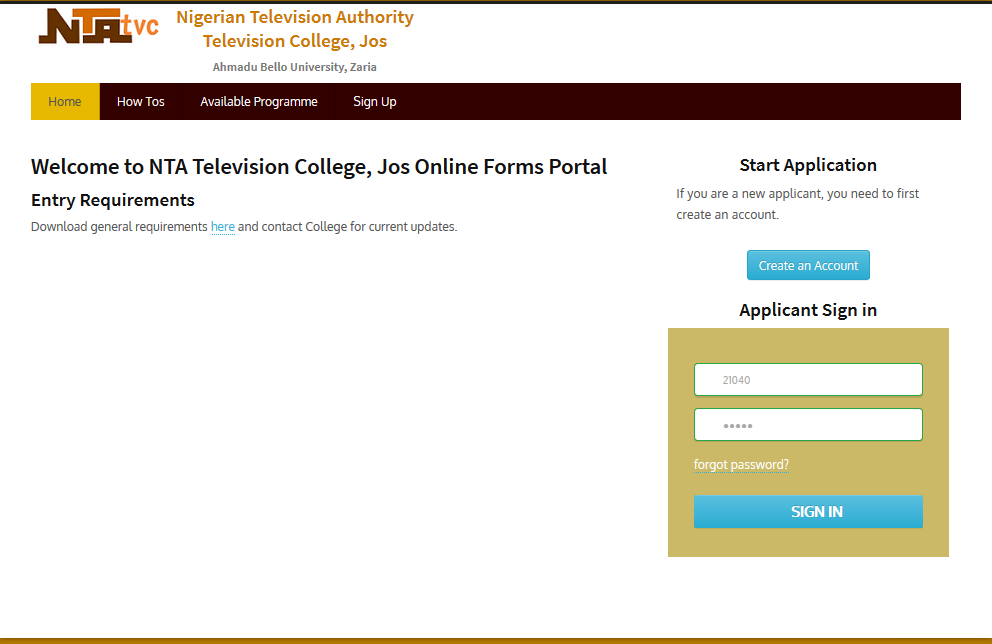 IMPORTANT NOTE:
Applicants are strongly advised to always, always stay with whoever is filling their data for them and ensure that their data is filled correctly and completely. The College shall not be held liable for failure of any applicant to submit correct and complete data.
02: How to buy application forms
Note: You are advised to check the availability of the programme you wish before probably begin to create an account. To check the availability, click Available Programme from the top menu and then search on the programme of your choice. You can search by typing any keyword from the programme name or select the department and then the programme
If your programme of choice if found, create an account if you have not, login to the portal and then proceed to the following steps:
Click on My Form
Select the college and department the programme belongs to and click on search
Click on View Detail, note the closing date and the programme requirement
Click on Begin Application, fill in all the required information under Profile Menu as explain below.
03: First-time applicants
First-time applicants must create an account on the portal before they can apply, fill and submit their forms on the portal. The account is created once and can be used to apply for many progammes thereafter (i.e. you do not need to create separate accounts for separate forms). Upon clicking the "Create an Account" button on the landing page, the account creation page (a.k.a. "Sign Up Page") shown below should open.
Note: After successful sign-up, you will be required to re-log in to start accessing other parts of the portal.
04: Returning applicants
Applicants who have already created their accounts can subsequently return to the portal and log in. After they are successfully authenticated, they will be taken to their profile page where they can update their biodata and other details as well as buy/follow up on their application forms.
05: Filling applicant's basic biodata
The biodata page requires the applicant to type such basic information as gender, date of birth, place of birth, nationality and so on as illustrated below. To fill or update your biodata, go to the "Profile" menu after log in and click Biodata.

06: Filling applicant's contact details
Applicants are expected to supply valid contact details which include their current contact address, permanent home address, as well as email address and GSM phone number. Further, they are to provide information about their next-of-kin who may be a parent, spouse, sibling or others. To fill or update your contact details, go to the "Profile" menu after log in and click Contact.
07: Filling applicant's O-Levels qualifications
This is where applicants should enter their O-Level results. A minimum of one and maximum of two sittings are allowed. In any case, applicants must enter a minimum of five subjects in their O-levels, otherwise they shall not be able to submit the form at the final stage. To fill or update your O-Level results, go to the "Profile" menu after log in and click O-Levels.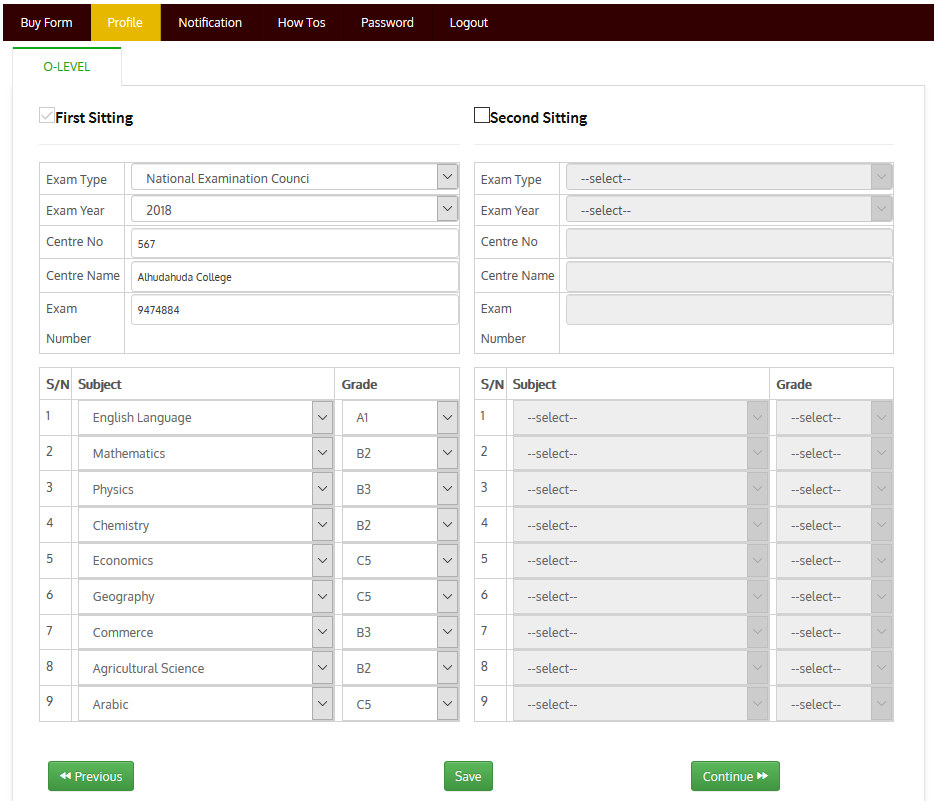 08: Filling applicant's A-Levels qualifications
The A-Levels page enables applicants to enter details of all qualifications they have obtained after secondary school O-Levels. These include IJMB, NCE, ND, HND, first degree and all other academic qualifications obtained before the current one they wish to apply for. Details of A-Level qualifications previously entered (if any) can be seen immediately as shown in the figure below for our sample applicant (he has three a-level qualifications in this case). Clicking the "Add New" button opens the second screen to enable you add more qualifications.
---
Note: Any previously added A-Level details can be edited or deleted by clicking the appropriate link against the appropriate record.
09: Uploading passport-size photo
Note: Applicant is required to upload his/her recent passport photograph of not more than 25KB(JPEG only). Even though the portal does the automatic resizing in less than few seconds provided you have a strong internet connection.
To upload your picture, under the Profile menu, click on the picture. On the displayed, click on Choose file, browse through your local computer to locate the image you wish to upload and click on open. Click on Upload and wait for some few seconds, your picture will show if it is compatible with the specified format and size
10: How to pay for your form
Note: You can only proceed to pay if you have filled in all the required information
If all the required information is supplied, Click on Pay Securely. You will be taken to Remita to generate RRR. You print the Remita RRR receipt and take it to any commercial bank to pay or proceed to use your debit card
10: Final submission of forms
Note: You can only submit the form after payment is confirmed. If you do not submit the form, your application will not be processed.
Click on Final Submit to submit the form. On clicking, you will be prompted with Declaration window, click on Confirm. Print The final copy of the application form and keep with you.